Buying life insurance for the first time can be overwhelming. There are so many different providers, and it can be difficult to know which ones are going to provide the best value. Globe Life Insurance is a company that offers a range of insurance products, including some life insurance options. You may be considering them for your insurance products – in particular, they're often marketed at those who have a hard time qualifying for life insurance elsewhere. Here's what you need to know about Globe Life Insurance before purchasing a policy.
About Globe Life Insurance
Globe Life Insurance is based in McKinney, Texas and is known for offering life insurance, supplemental health insurance, and other financial products like annuities. Founded in 1951, they were initially a subsidiary of Liberty National Life Insurance and are now part of Torchmark Holdings. Globe Life Insurance sells its products directly through its website as well as through captive agents.
What Kind of Policies Does Globe Life Offer?
Globe Life Insurance offers a number of different types of life insurance policies. They specialize in policies that do not require a medical exam. They often market their products to those who have chronic health conditions or who otherwise might not get approved for a life insurance policy.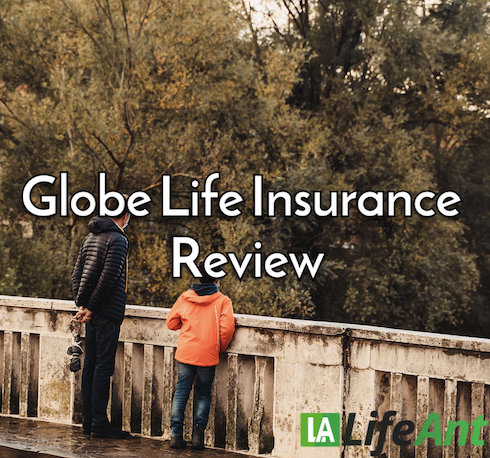 – Term life: Term life policies provide coverage for a specific amount of time. Globe Life offers term coverage without a medical exam, with coverage ranging from $5,000 to $100,000. This is much lower than the term life insurance benefits you would get with other companies. Their term structure is also much different than other companies. Their terms last for five-year increments, and you have the option to renew at the end of each five-year cycle. There are age limits to some of their term life insurance policies, so it's important to keep an eye out for those if you sign.
– Whole life: Whole life policies are designed to provide coverage for your entire life without expiring. Globe Life offers whole life insurance with limited death benefits for the purposes of final expense coverage. They offer whole life policies up to $25,000 for funeral costs and other end-of-life expenses. These policies are available without a medical exam, although they are not guaranteed issue. These policies also have a cash value portion, although it isn't added to the death benefit when you die. Instead, you can opt to borrow against the cash value while you are alive if you need it.
– Children's life: Global Life offers life insurance policies for children. These policies are designed to offer ongoing coverage as the child grows up. Once the child reaches adulthood, they can opt to continue paying the premiums themselves. The potential advantage of purchasing a life insurance policy at a young age is that the rates are much lower, so you can lock in a low premium for an extended period of time.
– Accidental death: While not technically a form of life insurance, many people use accidental death coverage for a similar purpose. Globe Life offers accidental death coverage of up to $250,000. The death benefit increases as you get older. They also offer guaranteed acceptance for most customers, so you won't have to worry about answering health questions or taking an exam. However, accidental death coverage will only pay under specific circumstances that qualify as an accident, like a car crash. If you die from an illness or another circumstance that doesn't fit their criteria, your beneficiaries will not receive a payout.
What Is Globe Life's Pricing Like?
Since Globe Life offers insurance without a medical exam, it may be one of the only ways for those with chronic health conditions to find relatively affordable insurance. However, for healthy people, their prices are typically slightly more expensive than the average cost of insurance. Globe Life's policies also don't provide as much financial benefit as those from other insurance companies.
What Is Globe Life's Customer Service Like?
Globe Life doesn't get high marks for customer service. You can get a quote and apply for it on their website, but their agents are not particularly responsive, so it may take a while for your policy to be finalized. For most inquiries, you'll have to contact their team by phone, which can also take a long time. Their agents have a reputation for not being particularly helpful when it comes to answering questions. Once you have a policy in place, you can make a monthly premium payment online, although you'll have to call them if you want to file a claim.
In terms of financial stability, Globe Life is trustworthy. They currently have an 'A' rating from AM Best, which is a company that rates the financial stability of insurance companies. This means that you can trust Globe Life to pay their claims, regardless of the current economic climate.
Is Globe Life Insurance a Good Buy?
For most people, Globe Life Insurance isn't going to provide the value that you would expect from a life insurance policy. Globe Life Insurance's policies are actually more expensive than average for most people, and they don't provide particularly robust death benefits. They also have very poor customer service, with a team that's more focused on making sales than helping to answer questions.
However, if you have a chronic illness or injury and are struggling to get coverage elsewhere, Globe Life Insurance could be the right choice for you. While their policies aren't the most comprehensive, they will provide you with enough to cover your funeral expenses. It's important to note that while they don't require a health examination, they aren't guaranteed issue, so you'll still need to fill out an application and potentially answer a few questions about your health.
In general, Globe Life Insurance doesn't provide as much value as other life insurance companies. It's always best to get quotes from multiple life insurance companies before making a final decision.