Mutual of Omaha is a respected financial institution known for their life insurance policies. They are based in Nebraska and offer policies throughout the US. They have been in business since 1909 and gained a lot of attention in the mid-60s when they sponsored the network television show Mutual of Omaha's Wild Kingdom. With so many life insurance options to choose from, you may be wondering if Mutual of Omaha is right for you. Here's what you need to know about this insurance company.
Policies Offered By Mutual of Omaha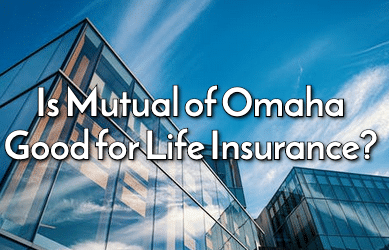 Mutual of Omaha offers a wide range of life insurance policies to suit your needs. Their policy options are intended to provide convenience and peace of mind for their customers. The life insurance policies offered by Mutual of Omaha include:
Term life insurance: These policies are available in amounts of $100,000 and up, for periods of 10,15, 20, or 30 years. This option is designed to cover the costs associated with a specific period of your life, such as a mortgage or student loan debt. The premiums for term life insurance are typically relatively affordable but do depend on your current health status.
Whole life insurance: These policies are designed to cover you for your entire life. Mutual of Omaha is unique in that they offer some whole life insurance policies that don't require a medical examination. Consumers between the ages of 45 and 85 can buy coverage up to $25,000 online, intended to cover funeral costs. The application is very simple, and the policy is guaranteed as long as you pay the premiums, regardless of your health status. You can also get a whole life insurance policy of up to $40,000 by applying with an agent. You will need to have an application approved that contains some health questions, but you won't have to take a medical exam. If you have health issues that would prevent you from qualifying for a typical life insurance policy, this is an excellent option to look into. It will leave your family with some financial support to ensure they can cover funeral costs.
Universal life insurance: These policies will also cover you for your entire life, but they offer much higher death benefits than whole life policies, and they do require a medical examination. Mutual of Omaha offers four different universal life insurance policies, which can accumulate cash value over time. One of these is the indexed universal life insurance policy, which is tied to market performance and can be treated as an investment.
Mutual of Omaha Reputation and Security
Mutual of Omaha is a very reputable insurance company with a long history. Since they've been in business for over 100 years, they are financially very strong and stable. They have been rated an A+ by AM Best, an agency that evaluates the strength of financial institutions. Studies by JD Power on a variety of insurance companies also shows that Mutual of Omaha customers are generally happy and satisfied with their products. Mutual of Omaha is also an ethical company that believes in giving back to their community and the world. Through the Wild Kingdom television show and web series, they have introduced huge audiences to concepts of environmental conservation. They also are a sponsor of many American sports events, and they invest in the growth and development of Omaha through the Mutual of Omaha Foundation.
Mutual of Omaha Experience
Mutual of Omaha makes buying life insurance very convenient for its customers. One of the biggest stressors that many people deal with when purchasing life insurance is the medical examination. A medical examination with poor results can make it very difficult to get life insurance at affordable rates. Mutual of Omaha's guaranteed whole life insurance policies can be purchased entirely online with no medical examination, simplifying the entire experience.
For other policies, Mutual of Omaha offers online quotes, so you can get an idea of costs and compare your options. However, you do have to make the final purchase through an agent and complete an application and medical exam. The Mutual of Omaha website will refer you to an agent in your area when you request a quote.
In addition to life insurance, Mutual of Omaha offers things like long term care insurance and critical illness insurance. These policies can be purchased in conjunction with your life insurance policy and will give you the peace of mind you need if you are worried about health issues later in life. They also offer Medicare supplement insurance and dental insurance, as well as financial services like investments and mortgages.
Overall, Mutual of Omaha is a reputable insurance provider with many different options to choose from. Their website is easy to navigate and they make the insurance purchasing process very straightforward.