Finding life insurance is difficult for anyone, but it can be particularly difficult to find the right policy if you don't speak the same language as the people around you. The community of Spanish speakers in the United States is growing quickly, and many companies are starting to cater to them with life insurance applications, policies, and other materials in Spanish. Here's what to keep in mind if you or someone in your family is looking at life insurance as a Spanish speaker.
Why It's Important
It can be tempting to just skip life insurance when English is your second language. There are many confusing legal terms that are overwhelming even for native speakers, and the idea of filling out all of the paperwork can be incredibly daunting. However, life insurance is important, and you should make an effort to get it when you're young and relatively healthy. The younger and healthier you are when you get life insurance, the lower your premiums are going to be. Life insurance ensures that your family will be financially safe and comfortable after your death. It's typically used to pay for your funeral expenses, as well as paying down any remaining debts that you may have, and providing longer-term financial support to those who may have been relying on you for it. Life insurance will reduce a lot of stress during a period of time that can already be very stressful and sad for your family.
Look for Applications in Spanish
In the past, it was hard to find life insurance applications in Spanish or any other language in the US. However, as the country has gotten more diverse, companies have started to cater to different languages. When searching for a life insurance company, look around on their website to see if they have applications in Spanish already put together. You might be surprised by how many companies now have this as an option.  Most companies will have Spanish speaking individuals on their customer service teams, and if they don't they will have access to a translation service that they can bring on the phone for free.
Choose A Local Agency With Spanish Speakers
If your community has a large population of Spanish speakers, it's also worth going into an insurance agency's local branch and asking if they have any Spanish-speaking employees who can help you. This can make a huge difference in your overall experience with life insurance – not only can they get you translated copies of your application and policy documents, but they will also be able to explain your policies in-depth and answer any questions you may have. Although it can feel easiest to go to the bigger, nationally recognized insurance branches, local agencies often have a more personal touch and will be able to really go through the entire process with you.
Hire A Translator
If you're in an area where there are very few Spanish speakers, you may have trouble finding somewhere where you can get an application already printed in Spanish. However, that doesn't mean you should give up on finding life insurance. Hiring a translator can help you get the documents you need printed so you can understand them. There are many online services now where you can submit documents and have them translated affordably, so you won't need to break the bank.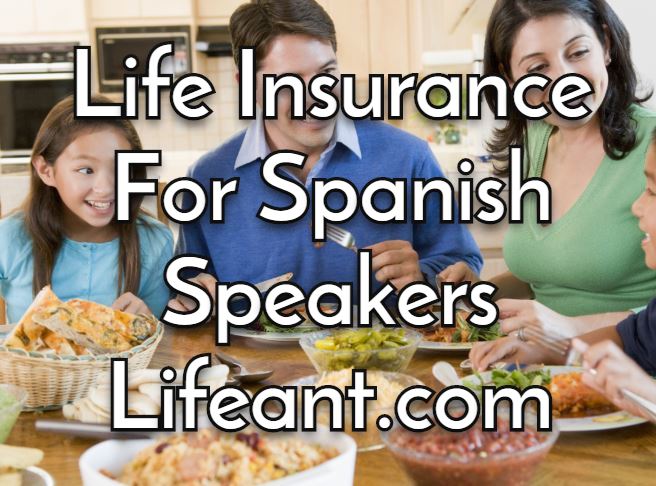 Does Life Ant Have Spanish Speaking Agents?
Yes our team includes Spanish speaking agents.  If you need help or have questions about your life insurance, or are interested in buying a new policy, or simply want to compare quotes for life insurance policies in Spanish we can help.  Please reach out to our experienced team to get expert advice and help shopping for a new policy.
Key Concepts to Know
When searching for life insurance, it can be helpful to understand some of the keywords and phrases that you'll see when shopping around. Here are some of the most important terms and what they mean.
Term life insurance: This is a life insurance policy that lasts for a specific period of time, usually anywhere from 10 to 30 years. They are one of the most affordable and accessible types of insurance policies available. Many people will take them out specifically to cover their mortgage or support their children until they leave the nest.
Permanent life insurance: Permanent life insurance policies last for your entire life and are much more expensive than term life insurance. There are many different types of permanent life insurance, including whole and universal life insurance. Many of them give you the option to add cash value to the policy, which you can invest to save money for the future. You can also typically adjust the terms of the policy as you go along.
Premium: This is the amount of money you will pay for your life insurance policy. You can typically pay your premiums yearly or monthly.
Medical exam: Most insurance companies require you to get a basic medical examination before you can fully qualify for insurance. This medical exam normally consists of an oral health history, a blood and urine sample, and a heart rate and blood pressure check. This will usually take place at your work or home, but can also take place at a local clinic. Ask your life insurance provider if they can send a medical examiner who speaks Spanish. Not only will this make the process much easier for you, but it will also make for more accurate results.  Some life insurance can be purchased without a medical exam.  Today, there are higher face amounts that trigger a medical exam to be required.
Searching for life insurance as a Spanish speaker can be difficult, but luckily times are changing and there are more options than ever to help you find the right policy for you. Don't be afraid to ask for the support you need – many companies will go out of their way to make sure you understand your choices. Life insurance is important for protecting your family later in life, and getting it figured out now will ensure you get the lowest rates possible.