If you are an owner, insured, beneficiary, or prospective buyer of life insurance in the state of Illinois, there are rights pertaining to your policy that could be very important to you. Continue reading below to learn about life insurance rules and regulations in Illinois and then see what the top 10 life insurance companies in Illinois are.
Life Insurance Rules and Regulation in Illinois
Life insurance is regulated under Title 215 in the state of Illinois statutes.  This regulation is in place to protect both policyholders and insurance companies from unscrupulous behavior.
Grace Period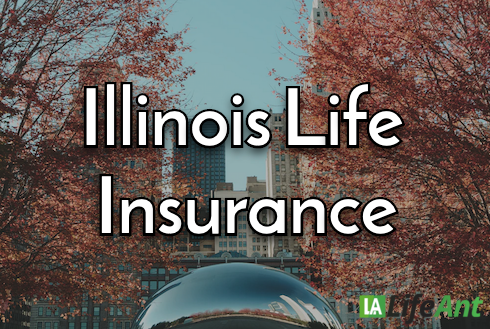 Illinois residents are entitled to a 30 day grace period.  During this period of time, which starts after a missed due premium payment, a policyholder will still have coverage.  Even though payment was not made on the due date, if an insured dies during the grace period the life insurance company is required to pay a death claim, as long as it is a valid claim.  This prevents an insurance company from denying a claim for a slightly overdue payment.  This also keeps a policy in force for the insured, to prevent the need to go through a new application process and the underwriting involved.
Free Look
Illinois residents are given a minimum free look period of 10 days, which is the most common minimum length of time mandated by states.  Your free look period starts upon delivery of the life insurance policy.  During this time the owner may return the policy and be given a full refund by the insurance company of any money paid.  An insurance company can not charge any fees for a policy being "free looked".
Guarantee Of Death Claim Payment And Cash Value
To inspire trust and help prevent innocent policyholders from being defrauded by life insurance companies who are not practicing sound financial management, the Illinois Life and Health Insurance Guaranty Association will back the cash value of your policy up to $100,000, and the death benefit of your policy up to $300,000.  This limit applies per person and is not affected by the number of policies owned or the size of the policies in excess of these amounts.
Timely Payment Of Claims
Illinois requires that life insurance companies quickly settle and pay out all claims.  To help prevent delays, if a claim takes more than 30 days to be paid in Illinois the insurance company must not only pay the claim but interest as well.  Interest starts accruing immediately after 30 days.
Medical Information Privacy
All medical information in Illinois is considered private and may not be shared without permission.  Illinois deems this to be so private, in fact, that you may not even compel the insurance company to share the results of their underwriting directly with you.  They are required, though, to share this information with a doctor of your choice if you so wish.
Illinois Department of Insurance
Telephone:  217-782-4515
Website:  www.insurance.illinois.gov
Illinois Life & Health Insurance Guaranty Association
8420 W. Bryn Mawr Avenue, Suite 550
Telephone:  773-714-8050Chicago, IL  60631-3404
Website:  www.ilhiga.org
10 Best Life Insurance Companies in Illinois
1. Northwestern Mutual
A highly ranked life insurance company, Northwestern Mutual is owned by its policyholders instead of stakeholders. Because policyholders own it, some policyholders get paid annual dividends if the company does well. 2020 is supposed to be the largest payout in company history. Flexibility is essential to Northwestern Mutual. They offer flexible coverage and flexible payment options. Some of the policies available include term, whole, and universal life insurance policies. Term-life policies can be converted to whole life policies without a medical exam. Northwestern Mutual's flexible coverage and payment options make it one of Illinois's best life insurance companies.
2. Illinois Mutual Life Insurance Company
A family-operated company, Illinois Mutual has provided life insurance for 110 years. They are a mutual company, so its financial goal is not to make shareholders rich but to use their assets to benefit their policyholders. They sincerely care for the people they serve. Like most insurance companies, Illinois Mutual offers term life and whole life insurance. They offer three different solutions for term life insurance for different paths based on what your needs are. Our favorite coverage they offer is "Path Protector Plus Return of Premium Term" which is the best of both term life insurance and whole life insurance. If you are looking for a unique life insurance coverage, Illinois Mutual Life would be an excellent provider.
3. Lincoln Financial
Opened in 1905, Lincoln Financial Group offers an array of life insurance policies. One of the unique insurance policies they offer is a survivorship life insurance policy. This is a policy for two people on one policy. The two people are normally a spouse and once both people have died, the death benefit pays out to the beneficiary. Lincoln Financial is a great insurance company if you want a plethora of choices to choose from.
4. State Farm
Although State Farm is primarily an auto insurance company, they do offer life insurance as well. It has a great selection of products and they offer a discount when you bundle with other types of insurance. State Farm is one of the best life insurance companies in Illinois because of their prices and its ease of use. State Farm offers term life insurance that start at $100,000 of coverage and terms of 10-,20-, or 30- years depending on your age. No medical exam is needed to obtain life insurance from State Farm.
5. Prudential
One of the largest life insurance companies in the country is one of the best in Illinois. Founded in 1875, Prudential offers a wide range of coverage when it comes to life insurance. Although its policies are not 100% customizable, they do offer some extra features that can be added to help you get what you need. Some of the policies allow you to accumulate cash value over time. These are mainly the permanent life insurance policies. Prudential is above average in customer overall satisfaction and policy offerings making this company one of the best life insurance companies in Illinois.
6. Country Financial
Country Financial is a down-to-earth company that has been around since 1925. It puts people first, not money. Country Financial wants to earn your trust, provide security, and deliver on the promises they make. Offering term life, universal life, and whole life, Country Financial gives you the ability to take a short survey to see which type of insurance is best for you. We like Country Financial for one of the best insurance companies in Illinois because they are local and are committed to the community. Country Fincancial wants to protect your quality of life.
7. Mass Mutual
Offering so much more than life insurance, Mass Mutual is one of the largest life insurance companies in the country. Mass Mutual is own by its policyholders. Depending on the product you purchase from Mass Mutual, you could be qualified to receive dividend payments with the largest payout coming in 2020 for its policyholders. In a J.D. Power life insurance study, Mass Mutual scored above average in overall customer satisfaction and communication. Its application process is better than most. These factors are what make Mass Mutual one of the best life insurance companies in Illinois.
8. New York Life
New York Life is one of the best life insurance companies in Illinois because of their customer service. With above-average ratings, New York Life doesn't offer life insurance quotes online making it essential to meet with one of their customer service reps or agents. Much like Mass Mutual, New York Life is owned by policyholders and may receive a dividend when purchasing qualified products. Term life insurance and whole life insurance are offered by New York Life. They also offer universal life and variable universal life. New York Life's customer service and policy offerings make them one of the best life insurance companies in Illinois.
9. John Hancock
If you live a healthy life, John Hancock Life Insurance may be the company for you. They offer discounts and rewards for healthy lifestyles. If you have diabetes, John Hancock might be the life insurance company for you as they offer coverage for diabetics who meet certain requirements. John Hancock provides other financial solutions as well as life insurance. They have above-average prices and above-average communication. John Hancock's unique coverage and extra financial products make it one of the best life insurance companies in Illinois.
10. Transamerica
Offering two types of term life insurance, Transamerica offers great prices for their life insurance policies. Transamerica's term life insurance comes in terms of 10, 15, 20, 25, and 30 years. Whole life insurance policies are available for coverage up to $2 million. They also provide whole life coverage in much smaller capacities designed to cover funeral costs and other final expenses. If you want index and variable universal life coverage, you can contact an agent and they will help you get a plan that works for you. Transamerica is one of the best life insurance companies in Illinois because of its affordability.