Life insurance is an important investment for anyone. A reliable life insurance policy protects your loved ones if you were to pass away by covering things like funeral costs, existing debt, and more. If you've never shopped for a life insurance policy before, you might find yourself wondering how much these policies cost as well as how much coverage they provide.
Many people opt for a $250,000 life insurance policy, which can cover funeral expenses and serve as income replacement for your loved ones if necessary. In this article, we'll talk about how much a $250,000 life insurance policy could cost.
The Cost of a $250,000 Life Insurance Policy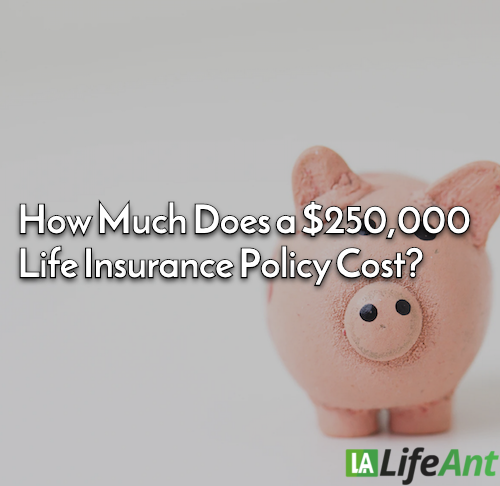 The cost of a life insurance policy can vary widely, depending on a number of different factors. When you apply for an insurance policy, the insurer will assess your application to determine the amount of financial risk you could potentially pose to the company. Each insurance company has their own procedures for determining pricing.
The average cost of a $250,000 life insurance for someone who is in excellent health and qualifies for the 'preferred plus' coverage tier is $278 per month. Those in the 'preferred' tier will average $339 per month, while those in the 'select' tier will average $445 per month. Those in the 'standard' tier may have chronic health conditions and could end up paying rates as high as $877 per month. All of these average prices are for a 10-year term plan – a longer 20- or 30-year term plan could end up costing much more.
Younger customers tend to pay less for life insurance, particularly if they are in good health. For example, the average cost for $250,000 life insurance policy is approximately $200 per month for 30-year-old men and $175 for 30-year-old women.
If you are looking for coverage of more than $250,000, click here to see how much a $500,000 life insurance policy costs.
Click here to see how much a $1,000,000 life insurance policy costs.
Factors That Affect the Cost of Your Life Insurance Policy
It can be difficult to estimate how much your life insurance policy is going to cost before you buy it. This is because there are so many different factors that can determine the final cost of your life insurance policy. Understanding these factors before you apply for a new insurance policy can be very helpful.
These are just some of the factors that can affect the cost of your life insurance. Every insurance company has its own approach to pricing life insurance.
Do I Need a $250,000 Life Insurance Policy?
The decision to purchase life insurance is a very personal one, and will depend on your unique situation. There are many reasons why people take out life insurance- some do so to ensure that their family will be able to pay off any existing debts after they die, while others purchase life insurance to provide financial support for their children and other family members.
For many people, a $250,000 term life policy is the right choice, because it provides enough coverage to support a family for a few years, and in many cases, it can be used to pay down credit card, student loan, or mortgage debt. However, a $250,000 life insurance policy is also fairly affordable, so it makes a good choice for those who are on a budget. If you have an extensive amount of debt or have a large family to support, you may need a larger policy.
A $250,000 life insurance policy is a good investment in your family's financial future. While average prices can vary depending on your situation, this is generally a good option for people who are looking for an affordable life insurance policy. You may want to get quotes from multiple insurance providers to make sure you're getting the best value.