Selecting the perfect life insurance policy for your needs can be overwhelming. With so many different providers, it's very difficult to narrow things down to the best option for your needs. Many banks and other large financial institutions offer life insurance policies, including Chase Bank. But are they really the most viable option? Here's what you need to know about getting life insurance through Chase Bank.
About Chase Bank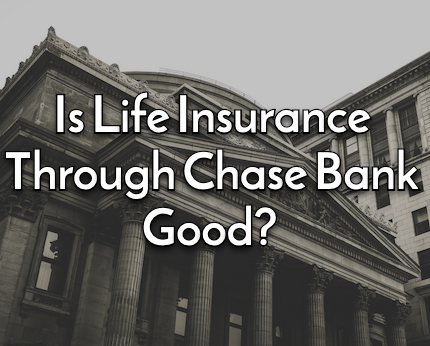 Chase Bank is the largest banking institution in the United States. In terms of assets, Chase claims the top spot – surpassing even Bank of America. Chase Bank is made up of the Manhattan Company, which was founded in 1799, and Chase National Bank, which was founded in 1877. The Manhattan Company was founded by Aaron Burr, who was the 3rd vice president of the United States. These two banks eventually merged in 1955. Chase Bank later merged with JPMorgan to become JPMorgan Chase, which is a major international financial organization. Today, Chase Bank is headquartered in New York City, with many regional headquarters throughout the United States. They are known for their efficient banking services and credit card offerings.
Chase Bank Life Insurance
While you may have seen your local Chase Bank branch offering life insurance, this is actually very misleading. This is because Chase Bank does not actually provide their own life insurance policies. However, they have thousands of local branches all over the United States, and agents from these branches can sell life insurance from Chase Bank's partners.
Up until 2006, Chase did sell their own life insurance products. The JPMorgan Chase brand decided to stop underwriting their own life insurance and instead focus on providing banking services, which is their specialty. If you purchased one of these policies, you'll still be able to file claims directly through Chase Bank. Today, if you purchase life insurance at a Chase Bank branch, you'll actually be purchasing a policy from an independent life insurance agency.
There isn't much information available about the type of life insurance products that Chase Bank representatives sell. This is likely because each agent works with third-party insurance marketing companies, meaning they each have different product offerings. If you're interested in getting insurance through your bank, you'll need to contact your local branch directly to learn what policy options are available.
Are There Any Advantages to Getting Life Insurance Through Chase Bank? What Are the Disadvantages?
Since Chase Bank works with a number of different independent insurers, you could get a very robust insurance policy from them. Of course, this depends on who actually underwrites your policy. And although you can get a good insurance policy by purchasing insurance directly through your bank, there are also plenty of downsides to this approach.
The biggest downside to getting insurance through Chase Bank is that it essentially adds extra steps to the insurance process. When applying, paying your bills, and filing claims, you will have to deal with both the bank and the insurer. This can be a hassle, particularly when it comes to filing claims or contacting the customer service team. If you work directly with the insurer instead, the process is more streamlined.
Another potential problem with getting insurance through your bank is that they may not have the full range of insurance products and riders that you are looking for. A life insurance policy is a serious investment that is designed to protect your family financially. It's important to make sure that your insurance provider has all the options you need to support your family after you pass away. If you work with your bank instead of going directly to the insurance provider, you may not have access to a full range of life insurance products.
Finally, when you get insurance from your bank, you're ultimately working with a banker who sells insurance – not a full-time insurance agent. This means they likely won't have the expertise of someone whose main focus is selling life insurance. While the experience will vary between bankers, you may not get the level of guidance you'd normally look for when choosing an insurance provider.
Alternatives to Chase Bank Life Insurance
Purchasing life insurance from your bank can get complicated. Since they don't specialize in life insurance, you'll end up having to go through them to get to their insurance providers, which can be time-consuming and frustrating. A simpler option is to purchase life insurance directly from an insurer. Get quotes from several different insurance companies to see who can provide you with the best value for money. You'll also want to make sure that your insurer offers reliable customer service and financial stability.
You can also opt to work with an independent life insurance agent to find the right policy for your needs. Independent agents have connections in the life insurance industry and can help you find the right policy for your needs. The benefit of working with an agent is that they can often find insurance providers that you wouldn't be able to find on your own. They also can help you through the application process, making it much simpler for you. Working with an agent can come with some extra fees, but for many people, the extra convenience is worth it.
What to Consider When Shopping for Life Insurance
Life insurance is a major purchase, and it's not one to consider lightly. There are so many different factors to take into account when selecting a life insurance provider for yourself and your family. Here are a few of the key factors to look at.
Is the provider financially stable? You'll want to make sure that they can pay out their claims regardless of the current economic situation around the world. A good way to measure this is by looking at the company's AM Best ratings. AM Best is an independent organization that rates the stability and trustworthiness of insurance companies and other financial institutions.
What kind of products does the company offer? There are many different kinds of life insurance products available, and you'll want to make sure the provider has options that will fit your needs. For example, you may want a permanent life insurance policy with a cash value option, or you may prefer a more affordable term life policy to cover your family's immediate financial needs.
What is the application process like? Some insurance providers only require you to answer a few questions about your health to apply, while others require a full medical examination. Understanding how the application process works can help you make a more informed decision on the best provider for your needs.