If you live in the Ocean State and are thinking about buying life insurance, there are certain things that you should be made aware of.  Rhode Island, like the rest of the country, has its life insurance industry regulated on the state level.  This means, that your life insurance laws will be determined by the politicians in Providence and not the politicians in Washington.  So, if you are looking to buy a policy for the first time or you are simply shopping around for better rates, it would be smart to educate yourself on the life insurance situation unique to the State of Rhode Island.
Rhode Island Life Insurance Rules And Regulations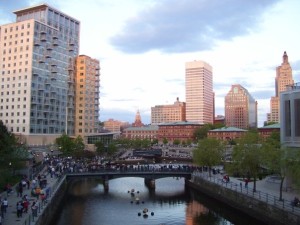 Chapter 27 of the Rhode Island Code outlines the laws for life insurance in the state.  These laws, seeking to protect both consumers and insurers, sets standards for claim procedures and policy requirements.  While the Rhode Island Code goes into great detail describing the life insurance laws, here are the main things to be aware of:
Free Look Period In RI
In Rhode Island, the free look period is set at 10 days.  A "free look period" is basically an amount of time new policyholders are allowed to test out their policies (with the option of a full refund if they are not satisfied).  The reason insurers offer free look periods is so that consumers can review their policies after signing.  Often times, the policyholder does not have enough time to review the lengthy life insurance document before signing, so this free look period hopes to give them ample time to thoroughly review it.
Timely Payment On Claims In RI
In Rhode Island, life insurance companies are given a total of 30 days to make payment on a claim if the claim is submitted electronically and 40 days if the claim was submitted by mail.  In order to keep insurance companies in check, interest begins accruing on the beneficiary's account at the time of death.  Therefore, if you live in Rhode Island, you most likely do not have to worry about receiving your benefit if you ever file a life insurance claim.
Consumer Misrepresentation In RI
If you are found to make any errors or commit any acts of misrepresentation on your insurance application in Rhode Island and the insurer discovers them within two years of the start date of the policy, the insurer can legally terminate it.  They will also not be obligated to pay out on any claims made.
For more information on the life insurance laws in Rhode Island, please contact:
Rhode Island Department of Business Regulation
Telephone:  401-462-9520
Website:  www.dbr.state.ri.us/divisions/insurance/
State Guaranty Association In RI
To provide more protection to the consumer, in the state of Rhode Island, your life insurance policy is backed by the Rhode Island Life and Health Insurance Guaranty Association.  In the event your life insurance company goes bankrupt, this association will protect your policy for up to $300,000 in lost death benefits and for up to $100,000 in lost cash surrender.
In order to qualify for this backing, you must be up to date on your premium payments and your insurer must have been legally licensed to operate in the state of Rhode Island.
For more information on this association, please contact them at:
Rhode Island Life & Health Insurance Guaranty Association
235 Promenade Street
Providence, RI  02908
Telephone:  401-273-2921
Website:  www.rilifega.org